Acupuncture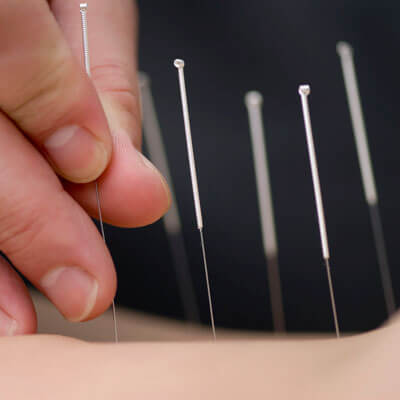 For thousands of years, acupuncture has been used as a natural form of medicine to help the body reduce inflammation and restore proper function by balancing the flow of energy.
At Body & Spine Solutions, we're proud to offer acupuncture to our patients to help combat a variety of conditions—from anxiety and depression to chronic pain, stress, pregnancy difficulties, circulation trouble, headaches and more. Respiratory conditions, including sinusitis and asthma have been relieved with acupuncture, as have many gynecologic disorders and infertility.
Acupuncture has also proved beneficial for reducing fatigue and addictions, and for promoting overall well-being.
Here's what you can expect when you visit us.
Your First Appointment
When you join us for an acupuncture session, we'll begin by taking your health history after you fill out new patient paperwork. Then, you'll have a consultation and exam with our acupuncturist. After, they'll recommend a focused care plan for you and if you're ready, we can begin care on this very visit.
If you're already seeing us for chiropractic care or massage therapy, our team members will make sure they communicate your health goals and needs to one another to bring you the most comprehensive plan for healing.
Many of our patients who receive a combination of care from us, like chiropractic and acupuncture or massage, experience incredible results from taking a whole-body approach to wellness!
Is Acupuncture Covered By Insurance?
Acupuncture is covered under Empire NYSHIP insurance and some BlueCross BlueShield and Aetna plans. If you have insurance through another provider, we're happy to check your benefits for you—though in our experience, there is typically a cash fee.
Schedule Your Session
We'd love to meet with you and discuss whether or not acupuncture is the right course of therapy for you. If you'd like to learn more, contact our team today to get started and book your first appointment.
We can't wait to welcome you into our care.
CONTACT US »

Acupuncture Miller Place, Sound Beach, Mt. Sinai NY | (631) 675-2910