Chiropractic Care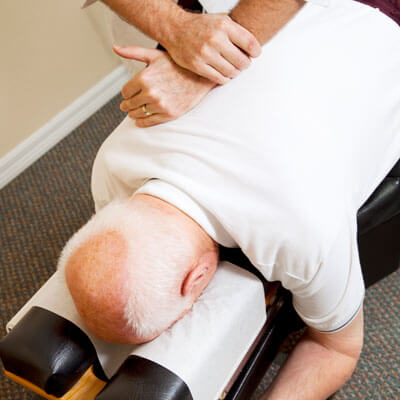 At Body & Spine Solutions, we're proud to offer patients focused, effective and proven chiropractic adjustment. When you choose us for your care, you're getting decades of knowledge at your service—simply put, we're here to help you feel better and get back to living the life you love.
How Does Chiropractic Work?
Chiropractic care is all about helping your body function optimally. Picture this—your whole body is run by your nervous system, the helm of which runs from your brain through your spine.
If just one vertebra is out of place and pinching nerves, disfunction ensues. This can show up for you in a variety of ways—from chronic pain and inflammation to digestive problems, headaches, sleep trouble and more.
If you have ever been in a car accident, played a sport, fell down or just bumped into something to hard, it's very possible that you are not functioning at your best due to a misalignment. While there are many potential mechanical or structural causes for misalignment, there are also chemical reasons. For instance, if you smoke or drink excessively or have a poor diet, the chemical issues in your body can eventually cause underlying conditions and disease to appear.
With chiropractic care, it's our goal to identify the area of disturbances and restore proper function through focused, tailored adjustments. Many of our patients have found success in chiropractic care relating to:
Back and neck pain
Headaches
Extremity pain
Shoulder, leg, knee and ankle problems
Auto accident injuries
Sports injuries
Bedwetting
Stress, anxiety or depression
And more
We're proud to offer patients a variety of techniques to provide the best possible results. When you visit us, we may recommend:
Diversified
Gonstead
Activator
Soft tissue work
Spinal Decompression
The purpose of your first chiropractic consultation is to discuss your current health conditions and any health concerns you may have so Dr. Roth can determine if chiropractic is likely to help you. If it looks like chiropractic can help, a thorough examination will be done to identify the cause of your problem. If not, Dr. Roth will refer you out to someone that may be able to better help you with your problem.
Dr. Roth will answer any questions you have at this time also. After everything is complete, we'll take a look at the overall results of our conversation and exam, and together, we'll come up with a plan of action which will begin when you are completely satisfied and ready to move forward—one designed to help you achieve your goals in health, naturally.
Discover How We Can Help
Ready to learn more about how natural and focused chiropractic care can help you and your family? We can't wait to speak with you about your goals in health and craft a plan that brings results.
To get started today, contact our team. We gladly work with a variety of insurance plans, including Empire NYSHIP, BCBS, Aetna, Cigna and more.
Contact us for a visit!
CONTACT US »

Chiropractic Care | (631) 675-2910